Last site update: 11/11/2023
Train Collectors Association #22-76180
---
Due to getting a telemarketer call every time the store phone is hung up, we have turned off our phone system, we will turn it back on at 4pm.
---
Today 11/11/2023 we will be closing at 5pm. Sorry for any inconvience this may cause.
---
December 2nd we will be closing at 4pm, we will be in the New Freedom Christmas Parade at 5pm
---
December 9, 2023 Santa will be in store from 2 to 4 pm bring your camra to take photos with him.
---
The new 2023 Lionel Volume 2 catalogs are here.
---
10/25/23 - Now in stock - We've recieved a distribution of "new" old stock 1/18 scale diecast cars, HO scale rolling stock and Rolling stock kits They are all now priced and on the shelves.
---
Important Notice about In Warranty repairs for Lionel Products!!
We've recieved notice from Lionel that all in-warranty repairs are now to be shipped directly to Lionel LLC for Service. If you are having issues with a Lionel train that is less than 1 year old, please contact Lionel LLC service department by email at talktous@lionel.com, by phone at 704-454-4200 or by mail at: 
Lionel LLC
Attn: Customer Service
6301 Performance Drive
Concord, NC 28027
---
4-28-23
Recieved a shipment today, Medium CA glue is now restocked, also recieved several snap together model kits.
---
We have 1 2021 and 1 2022 Lionel Train Day Boxcars remaining in stock.
---
Our web store is now in development.
---
Mission Models Paint , Now available in store.
About Mission Models Paint:
          * Oderless Non Toxic Acrylic paints
          * Can be used with either brush or Airbrush, gives same finish look as Laquer paints
          * Has Polyurithane additive for durable automotive grade urethane finish in all MMP paint and Clear Coats.
          * Adheres to Plastic, Resin, Metal, Lexan. Polycarbonate, Foam, and more with proper surface preporation
          * Has unlimited storage time, with proper care and storage
          * Easy Clean up with water or MMP thinner. DO NOT USE LAQUER THINNER AMMONIA, OR ALCOHOL BASED
            PRODUCTS WITH MISSION MODELS PAINTS BECAUSE THEY WILL CAUSE THE PAINT TO BECOME GUMMY
          * The Polyurethane, Primers, and Clear Coats are temperature sensitive, do not allow to freeze, and do not store in
             areas that can have extended high heat temperatures
         * All MMP products are 100% MADE IN THE USA
         * 179 standard colors (including color change, pearls and iridescent paints)
         * 10 Metalic colors
         * 5 Chrome colors
         * 7 primer colors (including clear)
         * 5 weathering colors plus clear medium for making your own 
---
08/17/2022 - We just recieved a shipment of Tamiya paint.
---
Due to a recent 44% increase in the wholesale price of Testors brand paint, we have been forced to increase our pricing on Testors Paint.
---
All  Testors Model Master paints are now on Clearance - all Model Master Paints now 30% off until sold out, This only affects Model Master Paints, the original Testors Enamel paints will continue to be restocked for the foreseeable future....
Also the Model Master paint racks are for sale once the paint is sold out (or Buy the contents of the rack, get the rack free!)
Model Master Paints are NOT effected by the price increase of Testors brand paints, as they are not being restocked.
---
Do you want to insure your collection?
We now have FREE information about collectables specific insurance from American Collectors Insurance Co. available in store.
Items that can be covered include: Advertising Memorabilia, Animation Art, Automobile Memorabilia, rare books, Antique or collectable camras, Carousel Animals, Ceramics, Clocks (antique or collectable), Crystal/Glass, Comic Books/Comics Art, Coins, Diecast Model cars & trucks, Dolls, Figurines, Guns (pre and post WWII), Holiday Collectables, Juke Boxes/upright Arcade games, Military Memorabilia, Mineatures & Doll Houses, Model Trains & Layouts, Movie memorbilia, and more...
---
Please note: at this time we are not accepting any consignments, or buying from the public, we currently have more merchandise than will fit on our shelves! (both sales floor and stockrooms).
---
We're still unboxing consignment and trade-in items. 
Stop in and check out the items you haven't seen yet!
We still have a train repair back-log, but we are working to get caught up. We are having parts supply issues, just like everyone else that does train repairs.
A Special Thanks to those customers that are waiting for their items to be repaired, for being patient with us, it is greatly appreciated!!!
---
We have 1 2021 NLTD boxcar still available for purchase.
---
URGENT NOTICE: If you own a MTH O scale or larger engine check to see if you have a battery or BCR installed in it. If it has a battery get a BCR as soon as possible, when the battery fails it will destroy the circuit board in the engine!
BCR1 and BCR2's are now in stock.
---
JT's Mega Smoke smoke fluid is currently sold out, we will be re-stocking soon.
---
Track Tack-it Dry ballast glue - to see the manufacturer's instructional video Click Here  https://www.youtube.com/watch?v=eti2xsftbl8 (currently sold out, but will restock soon)
---
 We can demonstrate (and order) NCE and Digitrax controllers, as well as other DCC products in store.
Our store HO scale train layout, is set up to operate on DC, DCC with NCE controller, or DCC with Digitrax controller at the flip of a switch!!. Our store test track is set up the same way. We have the ability to run trains on the layout and program DCC locomotives on our test track at the same time. We have two trains currently on the layout, Bachmann's "NCRY York 17" train and Lionel's First version HO "Polar Express".
---
We are now listed in the York County PA & Baltimore County MD Yellow Pages under "Hobby & Model Shops"
---
Due to Great-Planes (Hobbico) going out of business we will no longer stock R/C Airplanes.  
The remaining inventory of R/C planes have been moved off the sales floor to make room for other products, so if interested please ask, they are in one of our stock rooms.
---
The Photos are of the Boys attending the camp building the rockets, that were ordered from our shop.
---
---
We are constantly working on improving our in-stock position on Hobby supplies, Trains are far from the only thing we stock. We currently work with four major hobby wholesalers, and several small companies that offer specialized hobby products.
---
For helpful hints to maintain your model kits click here.

Free shipping on all special orders (orders less than $250.00 will ship with our regular store shipments)
Please see the "About us" section of our site for a map, photos of our old building, and directions to our new location.
   When you call, if you should happen to get our voice mail, please speak slowly and as clearly as possible, we want to be able to give you a correct response. (We all know how difficult answering machine recordings can be to understand).
We accept Cash, ATM, American Express, Visa, MasterCard, and Discover payments for orders and services.

We Have Donated one of the New Freedom Train Station kits for permanent display on the model train layout that is under construction at Steam Into History.
The Photo Below is of the York 17 and passenger cars sitting in front of the historic New Freedom Station.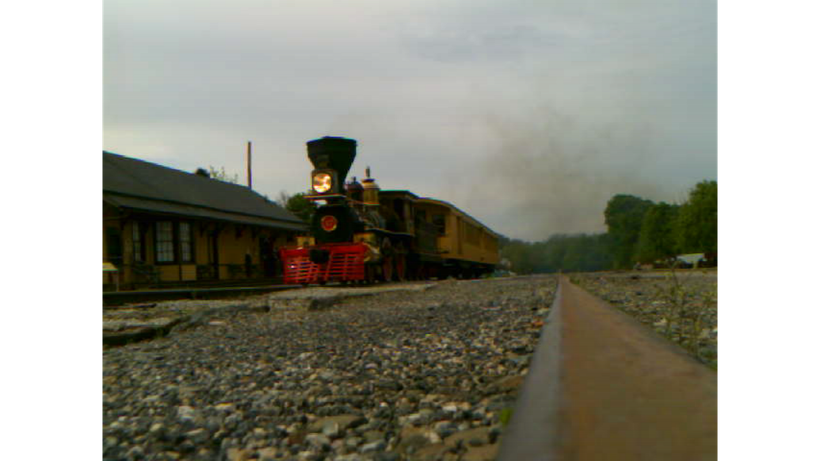 Wanted: old toy trains,
if you are interested in selling your collection, contact us. We have customers who are looking to buy old toy trains, specifically trains by Lionel,  American Flyer, and Marx.
Toy Train Service
Brands Serviced:
Lionel
Broadway Limited Imports
American Flyer
Bachmann
Atlas
Tyco
Varney
Riverossi
Life-Like
And More....
Maintenance and repair service (assuming we can get any necessary parts) available for both current production and out-of-production models (including Pre WW1 Lionel, and A.C. Gilbert American Flyer).
We can now troubleshoot DCC HO scale trains.
Please note: due to the Way Bachmann installs their DCC boards, from 2/23/2021 on we will  only work on the mechanism of Bachmann DCC equipped equipment. We will not work on Bachmann DCC equipment, that has a DCC control issue with the exception or reprogramming. Any Bachmann DCC equipment that needs DCC boards or wiring harness work will be forwarded to Bachmann for service or replacement (their option) so bring your receipt if the unit is less than 1 year old. We will add a $10.00 handling fee plus shipping cost to the repair invoice from Bachmann.
We are on the waiting list to become a factory trained and authorized repair center for Lionel, and are a drop off point for a local Lionel warranty service technician. We are also a drop off point for MTH warranty service.
---